Description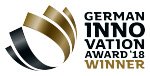 What better way to mill your flour than this stylish Mockmill grain mill.
Grind grains with ease. A push of a button will produce 100 grams of fresh flour per minute.
Stocked and shipped from the UK.
How does it look?
We think the mill looks inoffensive, curved, friendly and inviting. Furthermore, this fun form is wrapped in a bio-plastic with a subtle satin sheen. Several tones are intermixed into the surface colour that give the mill a modern appeal.
100 Grams
Per minute
38cm