Description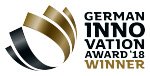 What better way to mill your flour than this stylish Mockmill grain mill.
Grind grains with ease. A push of a button will produce 100 grams of fresh flour per minute.
Stocked and shipped from the UK.
How does the Mockmill 100 look?
The gray and smooth 100 mill is both neutral and inviting. Furthermore, this fun form is wrapped in a bio-plastic. Several speckled surface tones intermix to give the mill a modern appeal. With a soft and satin sheen, the look of the mill is exactly the same as the more powerful 200 model. However, it's noticeably different to the wooden Lino Mockmill.
What kind of power adaptor is the Mockmill compatible with?
We ship the Mockmill with a UK power adaptor.
You can grind an array of dried foods with the Mockmill 100. The mill is not just limited to grinding wheat grain. Grind:
Amaranth, Chia seeds, Spelt, Einkorn wheat, Emmer wheat, Green spelts, Oats, Dried peas. Millet, Kamut, Chick peas, Kidney beans, Lentils, Lupin seeds, Corn (NO POPCORN CORN, Hulled barley, Natural long grain rice, Pinto Beans, Psyllium seeds, Quinoa, Rye, Soya Beans, White Beans, Wheat