Description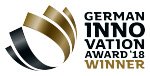 This Mockmill Professional model is aimed at the serious miller, looking to mill a large amount of flour.
A push of a button will continuously output 200 grams of fresh flour per minute.
This grain mill is perfect for professional bakers or micro bakeries looking for reliable grinding ability.
How does it look?
It looks almost identical to the Lino 200 model – inoffensive, curved, friendly and inviting. Do not be deceived by its playful form though, since this mill is for the professional miller looking to mill large quantities of grain, spices, and coffee.