Description
The T-shirts are 190 gsm premium quality, round neck, 100% cotton, non-shrink t-shirts with 'The Sourdough School' printed on the front. On the back they read:
BAKE TWO
GIVE ONE
__________
#sourdoughschool
#sourdoughclub
The Sourdough School T-shirts will be released in different colours every few months.
After each pre-order period has ended your order will be printed and shipment will then take place, so please do allow time for this. Any items you may have ordered at the same time as your t-shirt will be shipped with your t-shirt when it is ready.
Sourdough School T-shirts are available as Women's (fitted) and Men's/Unisex (straight cut) – please see below for all the sizing options and measurements in centimetres.
Women's sizes in cm: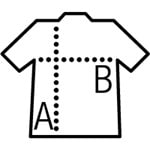 | | | | | | |
| --- | --- | --- | --- | --- | --- |
| Sizes | S | M | L | XL | XXL |
| A/B | 61/41 | 63/44 | 65/47 | 67/50 | 69/53 |
Men's/Unisex sizes in cm:
| | | | | | | |
| --- | --- | --- | --- | --- | --- | --- |
| Sizes | XS* | S | M | L | XL | XXL |
| A/B | 64/48 | 70/50 | 72/53 | 74/56 | 76/59 | 78/62 |