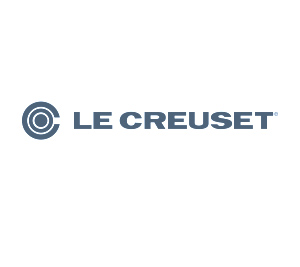 If you want to produce mouth-watering, golden bread at home, you can't go wrong with the Le Creuset Bread pan and oven.

Colours
This bread pan or oven, by Le Creuset, comes in 10 gradient colours. The signature colours include a rich red (Cerise), orange (Volcanic) and black (Satin Black) and more.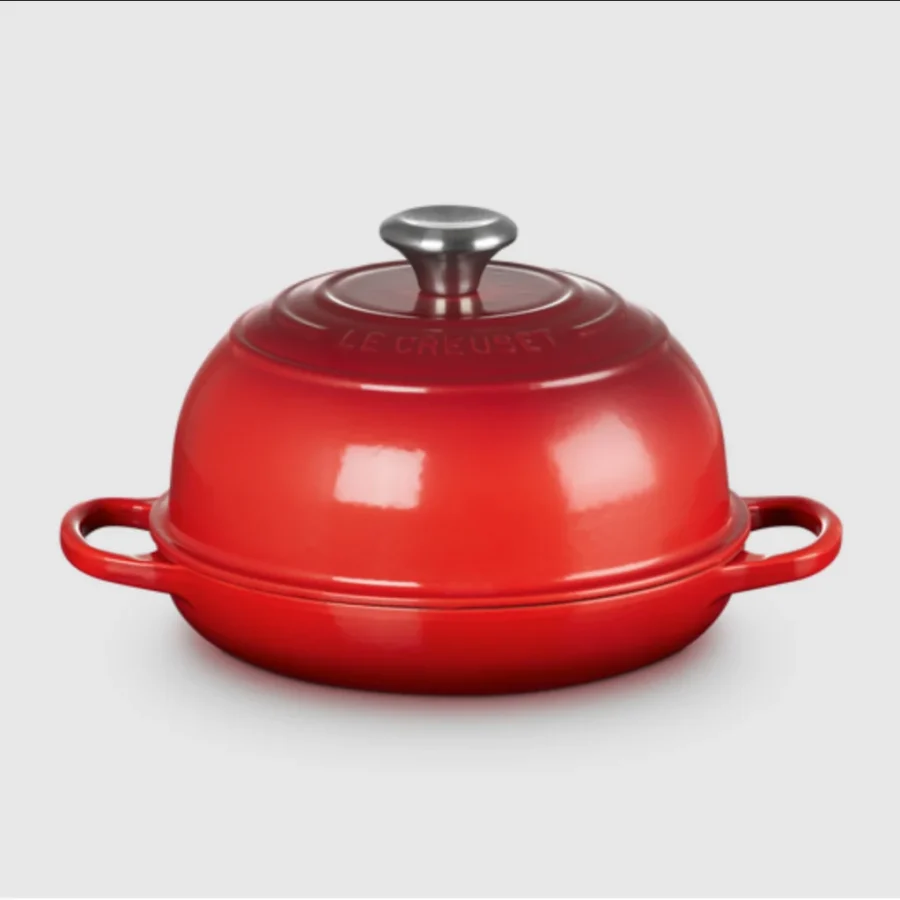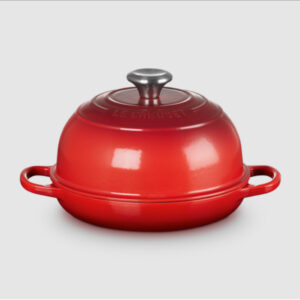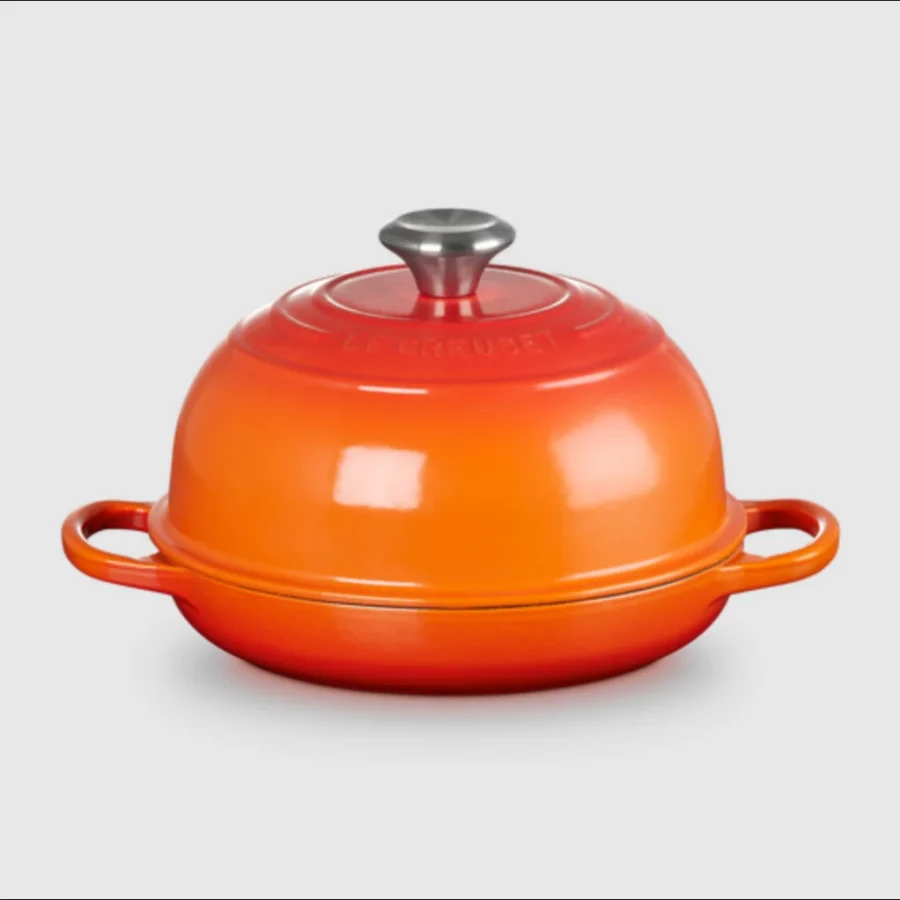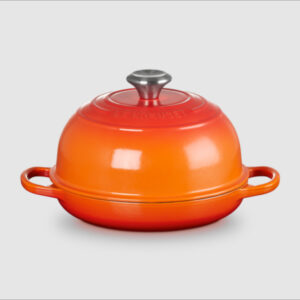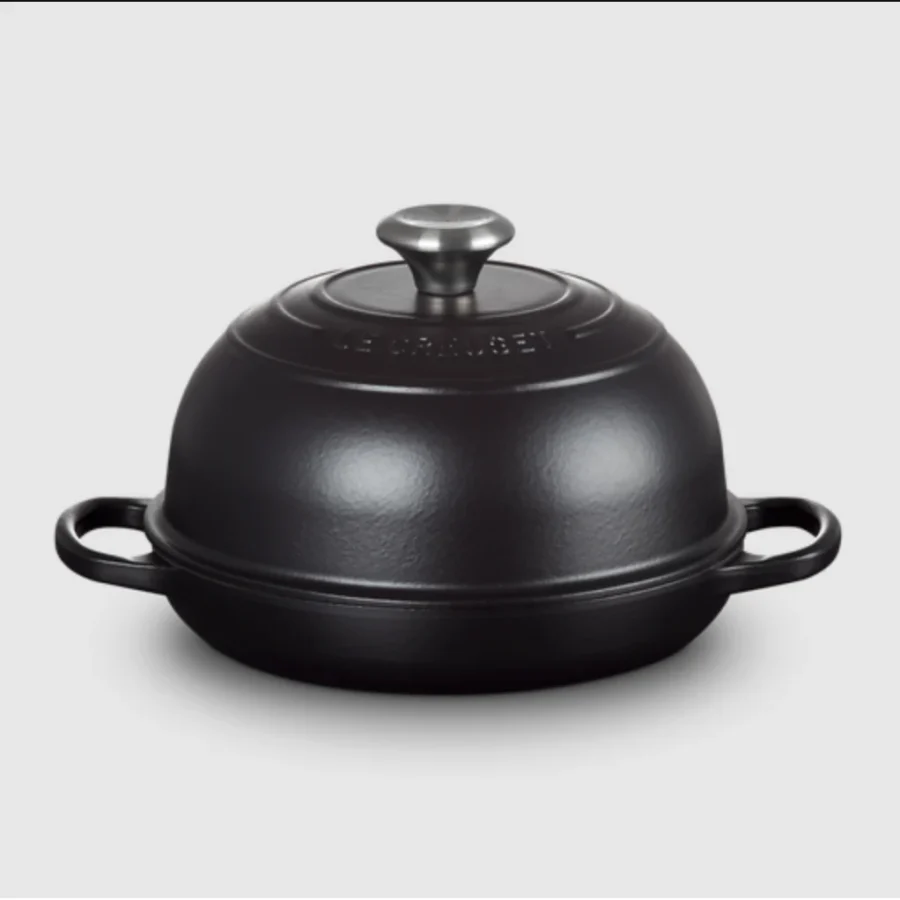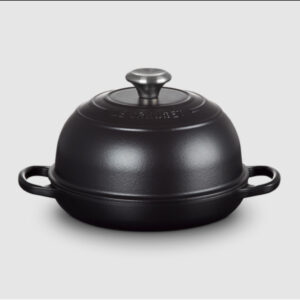 Design
The form is round (24cm) and shaped like a traditional La Cloche with a shallow base and large dome. The total volume is measured at 1.6L. Like most other pans, the domed lid traps steam and encourages it to surround bread dough as it bakes. The close-contact steam keeps the dough skin moist which allows it to better expand. Additionally, the steam draws sugars to the bread dough surface thus creating caramelisation and a golden, mouth-watering crust.
A large, oversized knob allows easy access and control with oven gloves. This is complemented with 3 Le Creuset hallmark rings which embellish the peak of the bread pan dome.
The base includes 2 large handles for easy lifting. The base of the pan is also coated in black enamel to avoid staining. This is a great feature to preserve the look of the pan. What's more, the base can be used as a handy grill pan when you need it.
Similarly to their other pans and ranges, Le Creuset has opted to use cast iron. Cast iron is commonly used in bread pans for its thermal ability and heat distribution. Iron is also very durable for any hard knocks.
An enamel coating helps to avoid sticking and supports cleaning and maintenance.
In 1972, Le Creuset introduced iconic 3 groove hallmark rings to the design of their pans. Bakeware preceding this date does not have the 3 rings. The bread pan features these distinctive markings.
Features
Cast-iron bread pan for even heat
Heat-resistant knob for easy grip
Effortlessly stylish and iconic
A lifetime warranty
Dishwasher safe
Length (with handles): 32.4cm
Width: 25.1cm
Height: 17.6cm
Weight: 4.4kg
The pan is suited for all cooktops and oven-safe up to 260°C.
Costs £220.
Where to buy it?
The pan can be bought directly from Le Crueset.
Pros
Lightweight
For a cast iron bread pan, the Le Creuset weight is surprisingly light at just over 4kg.
Stylish
The pans comes in a range of 10 colours to suit all.
Cons
Versatility
The round shape limits bakers to baking round loaves like boules.
Price
At £220, the price is much higher than a Le Creuset Dutch oven.
The new Le Creuset Cast Iron Bread Oven
Other Bread Oven Pans