Description
Features
Heats up fast.
Designed for bread and pizza dough.
33CM X 38CM X 0.6CM.
Free 1kg bag of Italian "00" pizza flour.
Suitable for oven or BBQ.
Robust and Durable.
Made in the UK.
Easy flat storage.
Super efficient conduction.
How does the baking steel plate work?
The baking steel sits in your oven, heats up fast and will provide a very strong heat source when you need it. This radiated heat source is great for cooking pizza, bread, cookies and more.
The steel can also be used to radiate even heat to a baking tray placed above it. This is perfect if you need to roast vegetables fast and evenly.
The concentrated steel heat source will help take your bread and pizza baking skills to a new level. Now you can give your pizza base a charred and crispy bite that'll rival any Napoli brick oven.
Is the baking steel pre-seasoned?
The baking steel plate is not pre-seasoned. This allows you to season the steel using an oil of your choice.
Do I need to re-season the baking steel plate?
We advise that you season between each bake. This will help preserve the metal and avoid rust. Additionally, gas ovens can expose the steel to more moisture than an electric oven.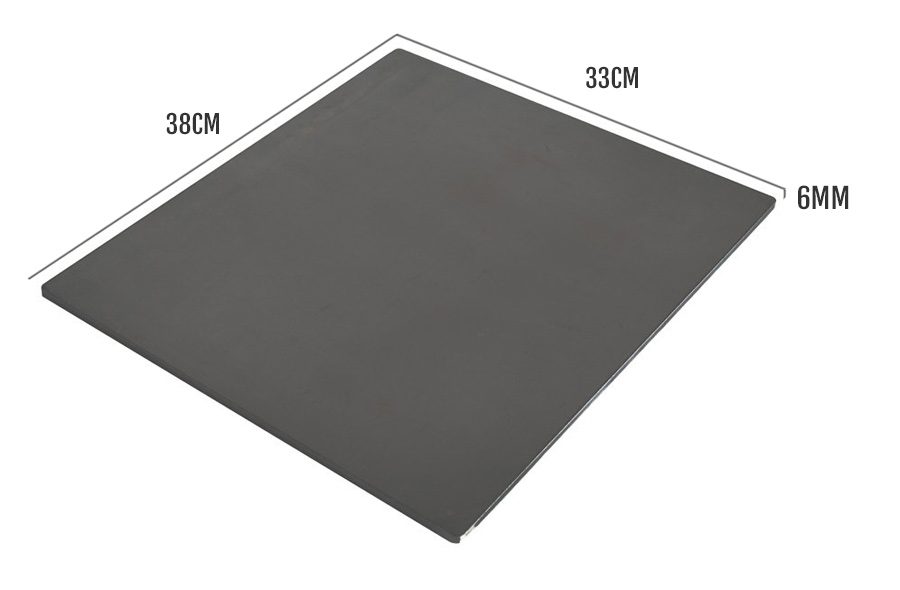 How to use?
Place the steel in your oven and preheat until 230 °C-260 °C. The time will vary for different ovens, but generally the steel will take 20-30 minutes to heat up.
Once the steel has been heated, take care and use an oven glove to pull the oven shelf half-way out. Use a specialist peel to place your desired dough onto the steel surface. The seasoning should help avoid sticking, but you could also sprinkle flour, semolina, or apply parchment paper.
Prepare for some serious oven spring. The steel is a very concentrated heat source. Cook your bake, but be cautious that the steel may cook your bread or pizza, quicker than your recipe suggests.
When your bread bake or pizza creation is complete, partially pull out the oven shelf. Take care and remove your creation from the baking steel using a peel or gloves. Return the shelf and steel to the oven, to cool. The steel will retain heat, so safely leave to cool in the oven.